Support Us

Donate Now
Would you like to make a Donation?
This website is made possible by our generous private, corporate and public supporters. We invite you to help the Far From The Heart anti-violence campaign with your own donation.
We can't thank you enough for your generosity! I was just reflecting on our accomplishments, on the personal stories people have told me and on the lives we've touched, and I wanted to let you know how powerfully moving and helpful the experience has been to so many people – be it the play, or the film. Far From The Heart would not be possible without your commitment and support. Please know how much we appreciate your gift.
– Joan Chandler
Artistic Director
Funders and Friends
Corporations, Businesses and Unions
Bruce Power, SaskTel, RBC, Lotus Leaf Communications, Gardner Productions, ETFO Bluewater Local, The Council for Business and the Arts, Greenfield and Barrie LLD, CIBC, Allpoints Relocations, The Bay Street Clinic, Rogers Television
NGO's and Institutions
The University of Regina, The United Way of Bruce Grey, The MacKenzie Art Gallery, Planned Parenthood Regina, Common Weal Community Arts, Creative City Centre Regina, Artesian on 13th (Regina), Saskatchewan Indian Gaming Association, The Bluewater Board of Education, Grey Bruce Health Unit
Our sincere thanks go to the Organization of Saskatchewan Arts Councils (OSAC) for promoting and booking our theatre tour through their Junior Concert series.
Foundations
The Canadian Women's Foundation and its partners, The Ontario Trillium Foundation, Tippet Foundation, The Grey Bruce Community Foundation, The Raptors Foundation
Government
The Ontario Arts Council: Ontario Touring Program, Arts Investment Fund, Community and Multidisciplinary Office, The Department of Justice Canada, The Ontario Ministry of Health Promotion, The Saskatchewan Arts Council Culture on the Go Program, Saskatchewan Student Summer Works, Saskatchewan Cultural Initiatives Fund, The Ontario Ministry of The Attorney General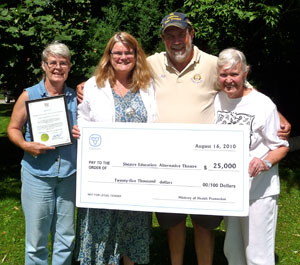 MPP Bill Murdoch presents a cheque to Sheatre on behalf of the Ontario Ministry of Health Promotion.
Individuals
Anna Coutinho, John Moulton, Joan Chandler, Richard B. Pierre, Stephen Whitehead, Stephen Gardner, Anonymous
In-kind
Many have supported Sheatre with a donation of their time or goods and services, including prizes, volunteer facilitation, production supplies and support, promotional support, and business consulting. These include: Daily Gems (Jarvis Emerald), The Al Green Theatre, Dave Seiger (Enterprise Canada), Ezra's Pound, CJ Photo, Phyllis Britton, Paul Hartmann, Richard Buffalo, Rhonda Bird
Volunteers
Special thanks to those who assisted with the development of the program: Theresa Partridge, Joachim Ostertag, Candace Burton, Jackie Ralph, Kathryn Companion, Kristan Anderson, Wendy Margetts, Kelly McDougall, Denna Leach, Pat Sanagan, Mark Kolohon, Karen Spragg, Alana Murray, and Mary Ann Alton.
A shout out to our youth advisory committee, all of the dedicated counselors and peer youth facilitators who have volunteered their time for post-show discussions including: Shannon Corkery, Dustin Stuefloten, Meagan McIlmoyl, Tessa Hassard, and Kristan Anderson.
Thank you to those youth volunteered feedback on our logo and website, both independently and through Unionrocks, Peninsula Shores District School (Wiarton, Ontario), Columbus Academy: Bosco Homes (Stony Plain, Alberta), Big Brothers Big Sisters (Toronto) and across Regina.
Partners
In Ontario: The Sexual Assault and Partner Abuse Care Centre (Grey Bruce Health Services), The Men's Program (Grey/Bruce), Women's House Serving Grey Bruce, Victim Witness Assistance Program, The Grey Bruce Health Unit, Grey Bruce Mental Health Association, teachers and others.
In Saskatchewan: Common Weal Community Arts, The University of Regina, STOPS to Violence, Multicultural Council of Saskatchewan, Provincial Association of Transition Houses and Shelters, Planned Parenthood Regina, Regina Women's Community Centre and Sexual Assault Line, Treaty 4 Education, YEAH, and teachers.
Ways to Give
To make a secure online payment, you may do so through CanadaHelps.org.

To donate by mail, please make a cheque payable to Sheatre and send it directly to:
Sheatre
170069 Centre Rd., R.R. #1
Kemble, Ontario, N0H 1S0, Canada
ph: (519) 534-3039
fax: (519) 534-3040
www.sheatre.com
To offer an in-kind donation or for more information please contact Joan Chandler at sheatre@sheatre.com.
Sheatre is a registered Canadian nonprofit organization with charitable status. Charitable tax receipts will be provided.
Charitable tax number: 14003 8134 RR0001
Photos: Coming Soon